Why Choose Stockmann Law?
Since 2015, out of 217 I-80 drug cases that Stockmann Law handled, 86% resulted in no jail time.
Experienced, knowledgeable and dependable legal representation.
A highly-qualified drug attorney who will tell it to you straight.
A lawyer skilled at predicting the tricks and tactics law enforcers and prosecutors will use.
Reliable representation that will fight for your interests.
A lawyer with a remarkable track record for getting cases dismissed and keeping clients out of jail.
Legal representation backed by 20 years of winning expertise.
Stockmann Law - What We Stand For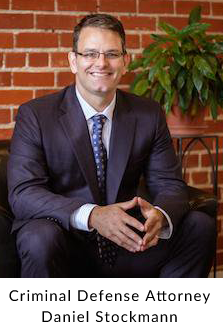 Stockmann Law is a nationally recognized law firm focused on defending clients from drug-related charges. Our professional legal team is led by Daniel Stockmann, a highly decorated lawyer with a proven record of success. We will thoroughly examine the facts in the case against you and promptly advise you through every phase of the judicial process. Our 20+ years of criminal defense experience has taught us how to navigate complex legal matters. We handle each case with unique consideration and tailor our defensive strategy in order to optimize the potential for success.
Stockmann Law - Case Summaries and Client Testimonials
"Wonderful help through a stressful time"
– CheQuilia Brown, Client
"Dan was very professional and courteous. He answered all me questions in a way I could understand. He was very up front on what he could do for the best out come of my case. I would definitely recommend him to a friend or family member"
– Carl Jensen, Client
"Dan and staff are first rate. Great service and affordable."
– Robert Matt, Client
"Daniel was a big help, I called their office not knowing how to get my drivers license back and he helped me get all the information I needed. Definitely will use this law firm if I ever need them again!"
– Wesley Sykes, Client
"Had a member of my family get caught in a serious situation that could have devastated his life and future goals. Coming from 30 years in Law Enforcement I knew it was important to find an excellent attorney that was knowledgeable, seasoned, experienced, and intelligent.

Attorney Daniel Stockmann checked all the boxes and then some. Myself and a former defense attorney friend both vetted him as well as others.
We had talked to half a dozen attorneys and all of them seemed more bluster than able to do the job intelligently. After talking to Daniel, we knew he was the person for the job, hands down. We didn't search any further after talking to him.

When it matters, you don't want an adequate lawyer,
You want AN EXCELLENT ATTORNEY LIKE ATTORNEY DANIEL STOCKMANN!!

Any one can take your money and run you through the system,

Attorney Stockmann, takes his clients and makes them and the best possible outcome for them a priority. This is a man of integrity and fortitude.

The matter has been resolved now with what we believe was the best possible outcome.
Daniel is very personable and available to both the client and immediate family. Kept us informed every step of the way and answered questions quickly.
He was even able to work on the payment of the fees in a reasonable manner.
If you need a great attorney in that area, he is the BEST choice by far!!"
– Scott, Client
"Thank you so much to Daniel R. Stockmann. I have to say he was definitely my savior 🙌. He help my wife and I in a moment of great need and for him I am very thankful. My wife and I are from California and when no other attorney in Nebraska wanted to help my wife and I, Daniel was there for us. I had never been in trouble with the law and this was a very intimidating situation to be in. He was so understanding, very nice and was always available to answer my many questions that I had. I loved that Daniel kept great communication through the whole process of my bail till the last day I had court. Excellent service and customer service. Definitely recommend if anyone is ever in need of an exceptional lawyer, Daniel R. Stockmann is your guy."
– Lisi Llamas, Client
"Prompt and professional in handling my case. For help with any drug charges in Nebraska, I recommend giving them a call. Proper representation matters."
– Mason Crane, Client
Drug charge - "We cannot express how grateful we are for Daniels expert help and guidance when our daughter, while driving cross country, was pulled over in Nebraska and ticketed with a felony drug charge. What could have turned out to be a devastating felony record was pleaded down to a misdemeanor. By following Daniel's clear directions our daughter can go on with her life. We are forever grateful and HIGHLY recommend Mr. Stockmann for his calm, reassuring demeanor and expert advise in what can be a highly stressful experience."
– Anonymous
Dan Stockmann's Defense Attorney Prowess - "Dan Stockmann failed to do nothing and saw to all my concerns. Which led to a complete dismissal of my case. If anyone is facing criminal charges because of marijuana possession in Nebraska Dan Stockmann is your man."
– Anonymous
A great representation from beginning to end - "Dan not only obtained a great result he helped from getting bail, telling me the plan to obtain the target result and he obtained that excellent result, in a timely fairly priced representation. Highly professional Dan was a great attorney."
– Leo
Pulled over on interstate 80 - "I was pulled over and charged with possession of controlled substance and possession of controlled substance with intent to deliver both felonies. I contacted many different attorneys but felt most comfortable with Daniel Stockmann. He assured me that he will do what he can to resolve this issue. Daniel traveled 5+ hours to meet me in court where he pleaded down my charges to a misdemeanor with a small fine."
– Mark
A terrific attorney!- "I'm so happy that I hired Daniel as an attorney. He clearly explained the law, answered any and all questions, and set my mind at ease as to what can be, at times, a complex intimidating justice system. I was very impressed with how hard he worked to get a fair and just result. I truly can't say enough."
– Robert
"Mr. Stockmann has represented my son on several occasions over the years. He has always been professional, ethical, thorough & compassionate. All my sons charges started as felonies, but due to Dan's diligent work, they were all reduced to misdemeanors. Dan Stockmann has always fought for my son & his rights, he's always been on top of his game and he has never let us down. I will continue to hire Mr. Stockmann for all of my families legal needs & I highly recommend him to represent your family too! THANK YOU DAN, FOR ALL YOUR HARD WORK & DEDICATION!!!"– Previous Client
Provided Reassurance!- "Mr. Stockmann is an extremely knowledgeable professional who provided the reassurance that anybody in a legally compromising position is desperate to experience from the moment it begins."
– R. H.
Client on Amtrak train passing through Omaha from Colorado on way to Iowa. State Patrol searched client's bag and discovered 7 lbs of marijuana. Client originally charged with PWID and facing 20 years in prison. Able to negotiate plea deal with county attorney. Client plead guilty to a misdemeanor offense for probation and a fine."
– M. B.
"When our son was arrested in Nebraska, even though it was in the evening, Stockmann returned my call right away and offered to help. He was confident and forthright in his assessment of our son's charges. We live in Iowa, so he kept in touch with us throughout the case via email and phone. I credit him for getting our son's bond lowered to an amount we could afford, and negotiating a plea deal that kept our son from going to prison. It was better than we had hoped for. Our son was facing 22 years for a drug charge. I don't know what we would have done without Dan! I definitely recommend Dan Stockmann. He saved our family."– Julie
Client traveling through Omaha on I-80 on his way home to Tennessee. Traffic stop and search uncovered 6 lbs of marijuana. Client booked and charged with PWID and facing 20 years in prison. Able to negotiate a plea-bargain that resulted in client entering plea to a misdemeanor offense for a fine only.

– N. D.
"When I was arrested, I was terrified that the charges I faced would ruin my life. I'm so glad I hired attorney Daniel Stockmann to represent me! From the very first moment, Daniel Stockmann listened to my concerns, relieved my fears, helped me to understand the legal process and assured me that he would do everything he could to fight for me. It was such a relief to have a competent lawyer who was going to work hard to get me out of that terrible situation. I would highly recommend Dan to anyone who needs a caring, aggressive, and diligent attorney."

- A.B.
Client traveling through Omaha on I-80 on her way home to Washington. Traffic stop and search by Douglas County Sheriff's office uncovered 0.9 lbs of marijuana and $103, 000 in cash. Case dismissed by County Attorney.

- D.L.
"Daniel Stockmann provides exceptional legal work. He is honest and straight forward with his legal advice. Daniel is reliable and answered all of my questions. I highly recommend Daniel if you are looking for a great attorney!"

– S. E.
"Due to unfortunate circumstances I found myself in need of an attorney in Nebraska. Luckily, I found Daniel Stockmann. He was thorough, knowledgeable and straight forward from our very first conversation. He was there to listen to me, and he kept me informed every step of the way. He worked diligently to obtain the best possible outcome for my case. To say I am simply satisfied would be an understatement. My family and I couldn't be happier. I am truly grateful I found him."

- B. B.​
"With Daniel Stockmann on your side, you've got a lawyer that will do everything (and more) to make sure you're represented properly in court. I hope I will never need a lawyer again. However, Daniel would be my first call if I did. My family and I can't thank you enough Daniel, you exceeded our expectations."

– J. B.
"Definitely on my side! I highly recommend Dan be on yours! I was unfairly and unlawfully targeted by law enforcement in Nebraska. I contacted many attorneys and they all led me (either by their actions or lack thereof) to Dan. Dan went to work right away to get me released from jail as well as working to get my case suppressed. I do my homework and I would recommend Dan to anyone who finds themselves on the wrong side of the law. He has worked extremely hard for me and I believe he would do the same for anyone who finds themselves in my situation as well. I believe him to be highly ethical and extremely truthful. He is a wonderful attorney."

- L.N.
"Look no further, Daniel Stockmann is the lawyer you want in your corner. Called and spoke to almost 10 lawyers before him and each one said their pitch like I was buying a car at the dealership. Almost gave up on finding an honest and genuine lawyer but I am glad I made the extra call to Mr. Stockmann. Out of all the lawyers I spoke to he actually talked to me like a person and didn't mention any word about his "fees" until I actually brought it up myself and when discussed was actually one of the more reasonable rates. He gave me insight and my possible outcomes before I even retained him as my lawyer for my case. Went from several serious felony charges to practically a clean slate, basically saving my life and career. He never guaranteed anything, but made everything very clear and knew exactly what he was talking about. He handled everything related to my case professionally with no hiccups and we ultimately got the outcome I wanted. He always made sure to update me each step of the way and kept me in the loop about documents and court dates, even appearing for me on several occasions so I could avoid making the long (8+ hour trip) myself. He turned what was originally my worst nightmare and one of my lowest points mentally to an absolute blessing and I can't emphasize this enough. Truly, you would be wasting your time and money going any other route than him in Nebraska. Thank you so much Dan."
- D. D. , client
Stockmann Law Has The Experience You Need To Win

Terrified of losing everything you have ever worked for because of a drug arrest? Watch to learn how a top Nebraska Drug Lawyer, Daniel Stockmann, can successfully guide you past your legal problems. Call Dan Now: (402) 884-1031

Stockmann Law - A History Of Success
Since 2015, out of 217 I-80 drug cases that Stockmann Law handled, 86% resulted in no jail time. They have won major settlements and favorable verdicts in everything from high-stakes charges like attempted murder and multi-million dollar drug trafficking charges to small drug possession and interstate drug trafficking charges. Stockmann Law has achieved seemingly impossible results by defending the following clients successfully:
Client was facing up to 300 years in prison for two counts of first degree assault, one count of robbery and three counts of use of a weapon to commit a felony.
Client was facing up to 55 years in prison and a $35,000 fine after police officers found a slew of illegal controlled substances.
Client was facing a sentence of 20 years in prison after a traffic stop yielded 86 pounds of marijuana.
It is not by luck that the Stockmann Law team was able to defend against such overwhelming charges. It is only through the unwavering dedication of the Stockmann Law team. No matter how serious the criminal charges are, Stockmann Law's goal is always the same: to provide the most effective legal defense possible.
Stockmann Law - Who We Serve
You don't have to live in Nebraska in order to need legal defense in Nebraska. Stockmann Law is dedicated to providing stellar legal defense to people living throughout the United States who have had charges brought against them by the state of Nebraska. The legal team at Stockmann Law has helped people from California to New York successfully defend against the charges brought against them by the state of Nebraska. Current and previous Stockmann Law clients have hailed from Oregon, Washington, California, Nevada, Colorado, Arizona, South Dakota, Minnesota, Iowa, Nebraska, Kansas, Oklahoma, Illinois, Wisconsin, Michigan, Indiana, Kentucky, Tennessee, Alabama, Georgia, Florida, Ohio, Pennsylvania, New York, Massachusetts, Connecticut, Maryland, New Hampshire, New Jersey, to name a few.
Stockmann Law - Affordable, Quality Legal Defense
When searching for a lawyer, you can't afford to overpay. You deserve a lawyer that provides excellent results at affordable prices. At Stockmann Law, we believe no one should be denied access to qualified legal defense. That's why we offer easy payment plans that are affordable for almost any budget. We'll even come to the jailhouse and physically bail out our clients - that's how much we care about our clients.
If you or someone you know is in need of a criminal defense attorney, you can trust the team at Stockmann Law to help. For a free case evaluation, call Stockmann Law now at:
(402) 884-1031
.